FIVEBROTHER Enzyme Washed Denim Bib Overall - Water-Resistant Cell Phone Pocket
YES! Finally a Bib Overall that solves the modern problem of how to keep your cell phone dry and secure! A New Innovation from FIVEBROTHER - - "Dura-Dry" Water Resistant Cell Phone Pocket with Double Snap Security Closure that protects your cell phone from most kinds of spills and splashes.

"Dura-Dry" Water Resistant Cell Phone Pocket
®
The Dura-Dry
®
Cell Phone Pocket measures 4 inches wide by 6.5 inches deep and will hold most modern Cell Phones with the Security Flap closed. If you are in high moisture environment...or even if you are not...with this Large and Secure Cell Phone Pocket -- FIVEBROTHER is the Bib Overall for You!
Mega-Storage with plenty of pockets. Even a Super-Size Pocket on the bib with a secure zipper top.
Full Cut/Relaxed Fit for ease-of-movement. Plenty of room to bend and stretch with no binding! Durable 12 oz. heavy denim for long lasting wear. Enzyme Washed for Comfort.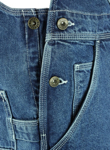 Comfort Waist Adjustable Side Panels
The Comfort Waist allows you to expand the waistband and side panels when needed and still keep dust and dirt out. It's like getting TWO BIB OVERALLS IN ONE! You can expand the waist up to 5" to accommodate a flannel shirt or sweatshirt, or room for heavier underwear in the winter. Expand for more Comfort after lunch. Did you put a little winter weight on? No need to buy a larger pair of overalls because that next size is built in! Just expand the waist until you work that weight off! You can wear these bibs as outerwear one day and expand out to coverall sizing and wear over your pants the next. Whatever your reason or season...you stay comfortable in one pair of Feature Rich FIVEBROTHER Bib Overalls!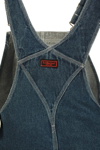 True Hi-Bak Design with Wider Straps for Shoulder Comfort
FIVEBROTHER
®
gives you a True Hi-Bak design that covers the majority of your back for cleanliness and protection, plus supports the Wider Shoulder Straps to give you Maximum Comfort on your shoulders.
Lot Number
2101.45
Features
12 oz. 100% Cotton Denim
"Dura-Dry" Water-Resistant Cellphone Bib Pocket
Large Compartment Bib Pocket with Brass Zipper Closure
Multi-Size Waistband Expands to Fit Multiple Waist Sizes
Button Waistband with Pass-Through Technology
Wider Two-Ply Straps for Shoulder Comfort
Durable Double Hook & Latch Anti-Rust Solid Brass Suspender Buckles
Double Lined Pocket Bottoms - Front Pockets
Double Lined Pocket Bottoms - Back Pockets
Pliers Pocket
Folding Rule Pocket
Hammer Loop
Two Tape Measure Loops
Anti-Rust Buttons, Buckles, and other Hardware
Full Cut – Relaxed Bib Overall Fit